Welcome to my web site. I hope you enjoy your visit. Feel free to have a look around and contact me if you would like to know more. We have an Animal Breeder Permit from Gold Coast City Council : GC7555880. This is a significant step towards ensuring that good breeders are recognised and puppy farmers eradicated. Check out my profiles page for test results and hip and elbow scores - I am delighted! ( They are usually kept up to date :))
Vale Panda, my wonderful mini, 1999 - 2010. You blessed my life with your personality, devotion and intelligence and I will miss you forever.....
Vale Laura, who lived to the grand old age of 16 years. 1997 - 2013. You also blessed our lives with your quiet devotion and beautiful face. You will also be missed forever.
Welcome Maiya, born Oct 22, 2010. Your presence is a tribute to Panda. I just had to have another mini! Wonderful work by Leia and Maiya at the Gold Coast Canine Club Show on May 15th, 2011. Leia got two Bitch Challenges and RUIB and little Maiya got Minor Puppy in Group.
As of March 16 2013 Maiya has gained enough points to become an Australian Champion. Well done little girl!
And welcome Kahleesi ( 21/02/2012) Kahleesi loves rain, mud, toys, food,her family and "the ball"!!
As of December 8, 2013 Kahleesi gained enough points to gain her Australian Champion title, finishing with 5 Best of Breeds!
Tally is 6 Australian Champions here at at Loana, 4 bred by us.
Lily at the Sydney Royal Show (2006) Hairstyles have changed since then......so has my handling, thank goodness...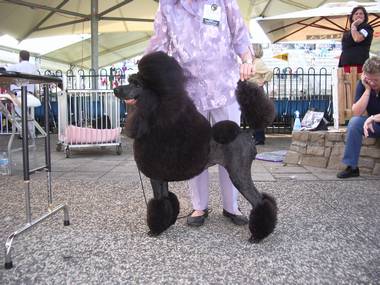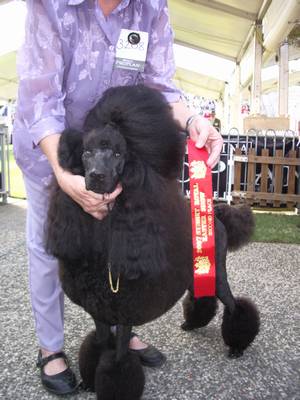 Louis and Champion Loana Wild Child as puppies. They are now "mature" poodles with excellent hip and elbow scores. They still adore each other unless there is a ball involved.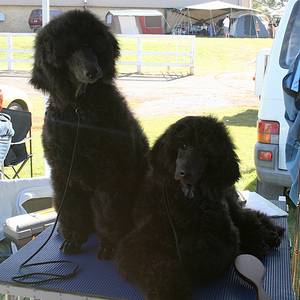 Leia - 11 weeks old April, 2010. Leia one year old. January 2011.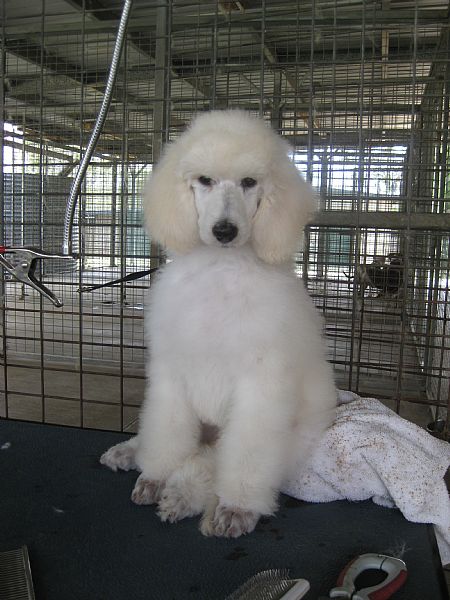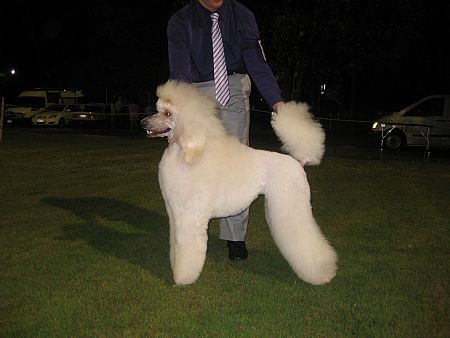 At just 7 months Leia gained the Bitch Challenge at Combined Northern Rivers Kennel Club Ch. Show on Saturday, August 21st, 2010.
On the left, Maiya January 7, 2011. Maiya is a miniature poodle, but she thinks she is a standard poodle!
On the right Maiya at 7 months - becoming a real little show girl.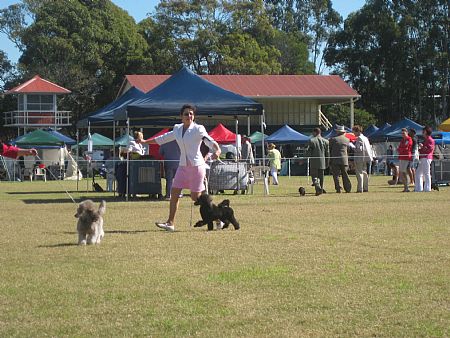 Leia January 29, 2011. Last show in puppy clip. Best of Breed - what a lovely bitch to show.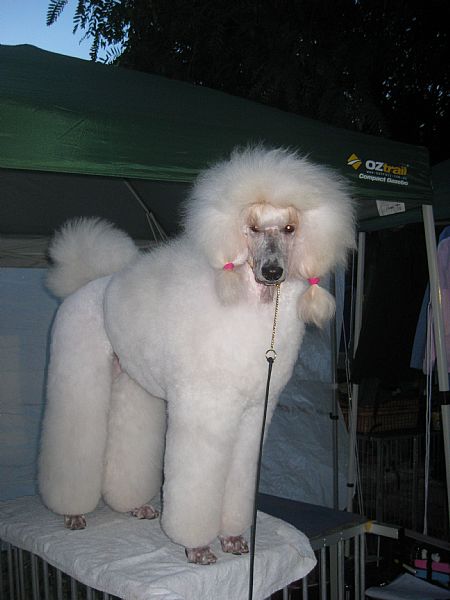 Leia gained her final points towards her Championship title at the Tweed River Canine Club Championship shows 16th, 17th and 18th of March, 2012. We had a long break from showing due to my mother's passing, so she did exceptionally well to get Runner Up in Group on Friday and Intermediate in SHOW on Saturday and Sunday. She is a gorgeous poodle to live with, laid back and loving.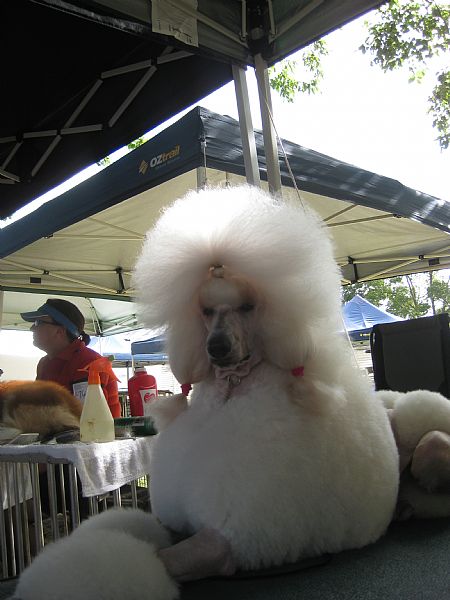 Puppy notice - Ch Loana Wild Child had ten beautiful puppies on February 21st 2012. They are thriving and lots of fun. As of June 6th all puppies have loving, forever homes. We look forward to many happy snaps.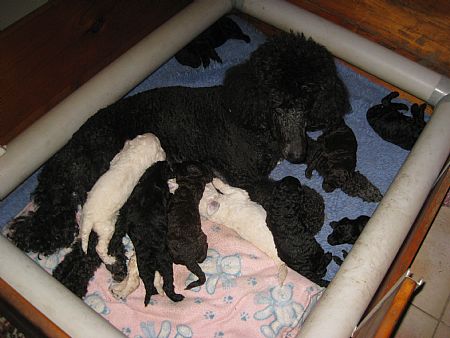 Leia stacked at Beaudesert Show, September 8th, 2012. Best of Breed.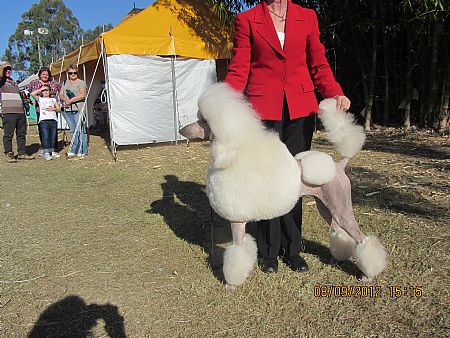 Maiya waiting her turn.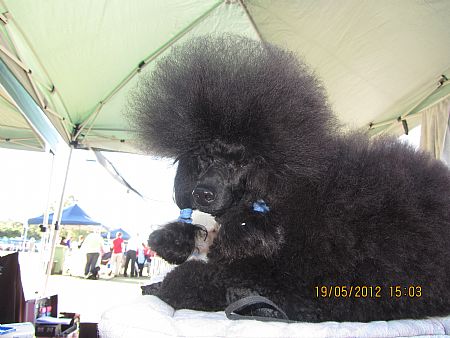 Kahleesi as a puppy.
Keeping her white is an interesting experience.....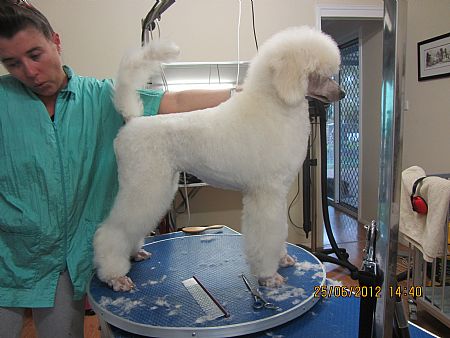 Arya holding her own. NSW Poodle Club Show, April 2015.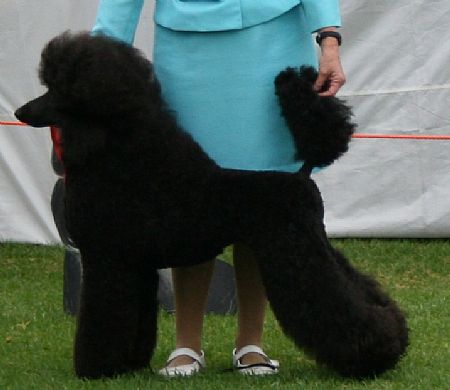 27657 Visitors