Ralarm Darby and Elastic Cat, best of mates.
Welcome to our web site. I hope you enjoy your visit.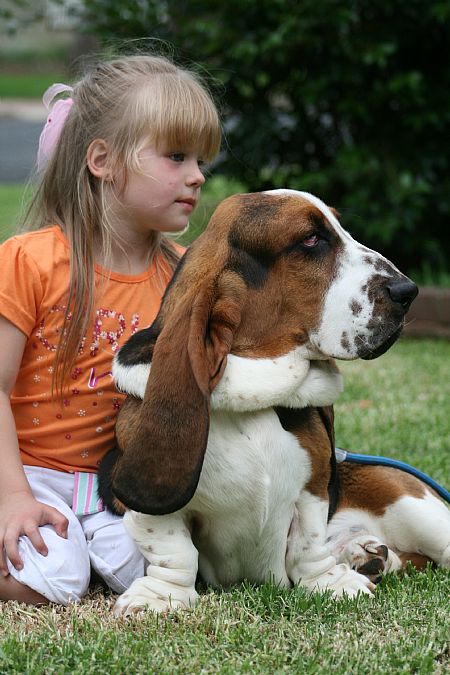 WEBSITE LAST UPDATE 17.01.15 so have a look over the site to view some more fabulous photographs of the Basset and Dachshund crew here at Delsharla! And, hey, don't be shy, leave some feedback on my guestbook to let me know what you think!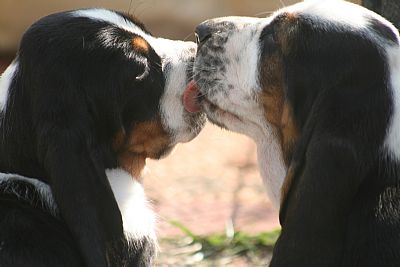 Brotherly Love! "Delsharla Classic Edition" (AKA Bentley)
with his litter brother "Delsharla Rocky Road" April, 2009.
I have been able to assist people in finding other reputable breeders with puppies available to approved homes, so please feel free to contact me as even if I don't currently have a litter I may be able to help you find a Basset or Dachshund puppy! To me, it's all about promoting these wonderful breeds of dogs!
Ph: Susie
Mob: 0412. 310 717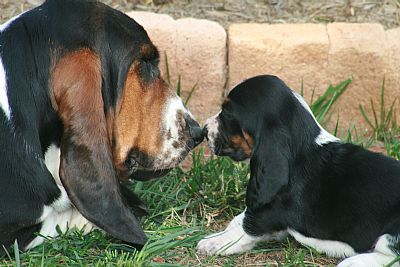 Lily & Pearl April, 2009.
Please read below to view an example of some of the feedback I receive here at Delsharla!

Name : Hugh MacRae
Web Site :
Country : Australia
How you found us : Web Site
Comments : Over a period I have had six Bassets all of them great dogs.Commencing late 2008 I contacted several breeders in New South Wales and interstate seeking a companion for my 4 year old male.Susies response from Delsharla was outstanding.In some cases with other breeders I received either no response or complete indifference.Over the next six months Susie regularly stayed in contact and now I have a beautiful puppy, known at Delsharla as Bubbles.The two litters I saw were exceptional not only in temperament but in absolute quality.Space permitting I would love another Basset and without doubt it would be from Delsharla.Keep up the good work Susie, the results are there for everyone to see!
Date : 20-May-09
A lot of people who have purchased Bassets either through me (from other Breeders) or from me personally, have stayed in touch on a regular basis. This is one of the reasons that I a remain committed to continuing to promote this wonderful breed of dog and it also helps to keep me going when things get tough and I feel like giving up!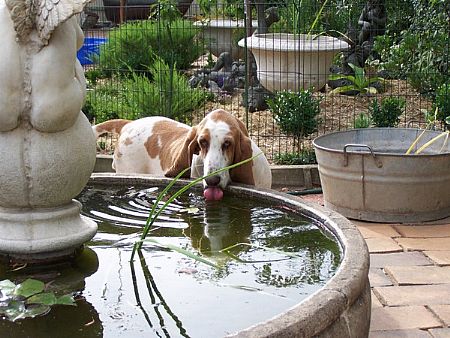 Tara - busted having a drink at the pond!
To all of you who have kept in contact with me over the past eight years or so, I thank you as I read through your emails and laugh and cry along with you, sharing your experiences with the Basset Hound and Miniature Dachshunds. I am also more than happy to chat on the phone with you and thank those of you who take the time to call.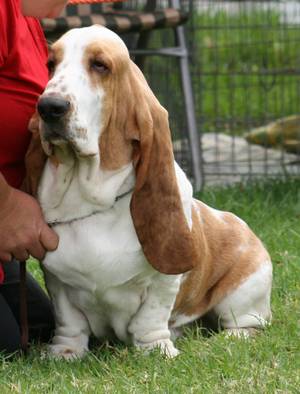 "Aust Ch. Delsharla Merlin The Great".
AUSTRALIAN CHAMPION DELSHARLA TRINITY
Trinity has attained her Championship Status in February 2008.
CONGRATULATIONS TO TRINITY AND SHELBY WHO HANDLES TRINITY AT THE SHOWS!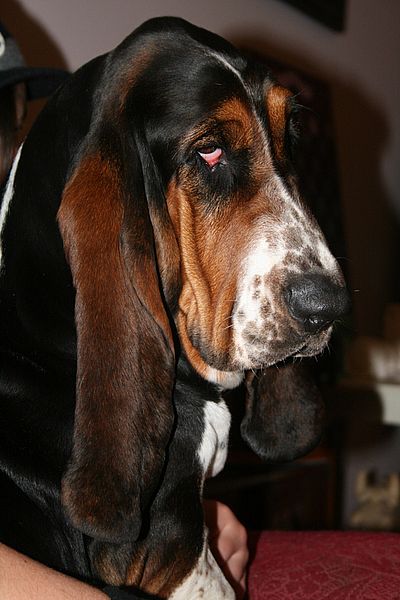 Head shot of Trinity 2008.
AUSTRALIAN CHAMPION DELSHARLA MERLIN THE GREAT
Merlin has attained his Championship Status in June 2008
CONGRATULATIONS TO OUR MERLIN!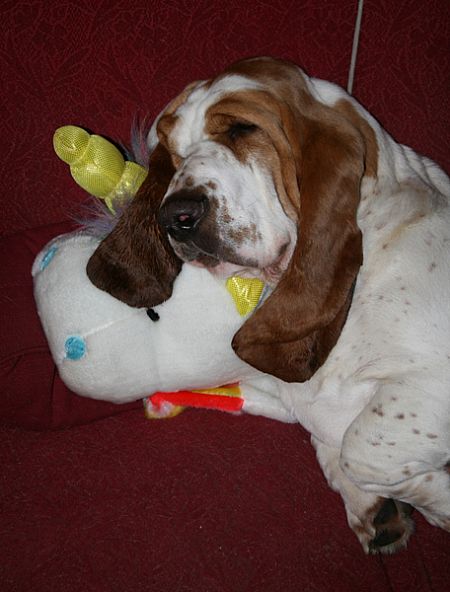 Merlin, hard at it with his Unicorn friend!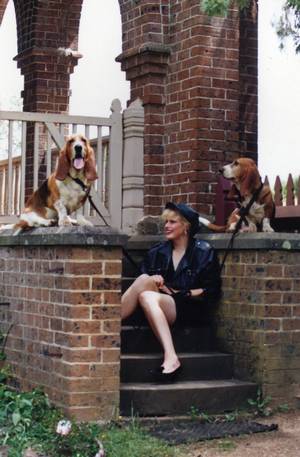 Ralarm Darby, Jenny Mitchell and Ralarm Sharna
photographed at "Camelot Castle" located at Camden NSW.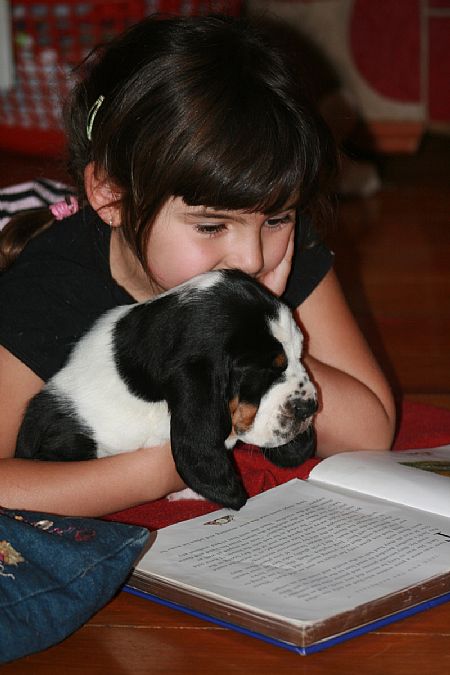 "Delsharla Calypso" and Ella sharing a book together - April, 2009.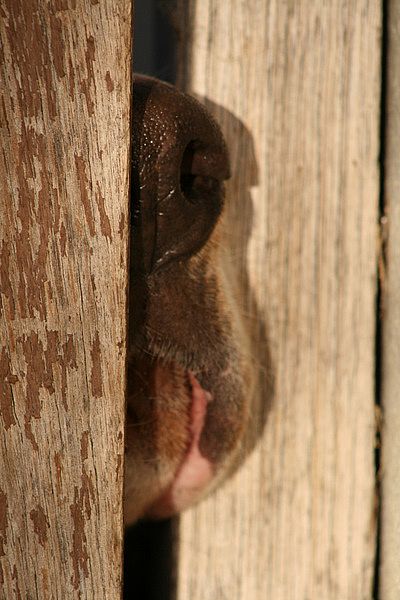 A Basset's nose fits just about anywhere when it suits them!
The shot below was taken by Shelby of Merlin checking out
"WHO" is on the other side of the gate! (Photo taken by Shelby)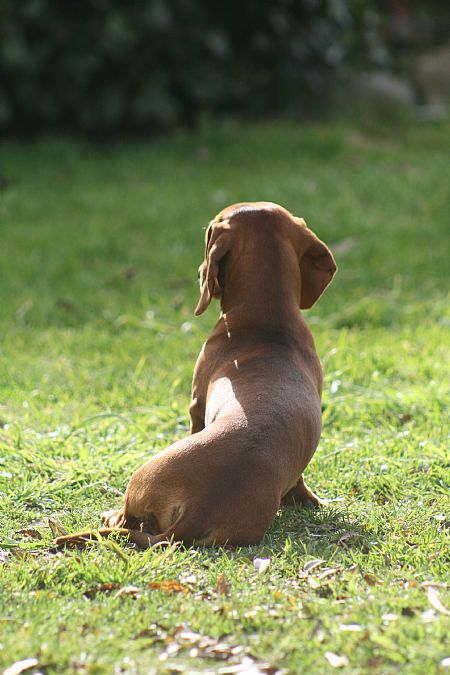 Benny soaking up some winter sunshine, June 2011.
If you enjoy looking over my website viewing the collection of photographs and would like your own collection of shots of your pets, I am now available to take those photos for you. I can come to your house to do the portraits and take as many shots as the animals allow. I then download the photos onto a disc for you to have as your own. Please feel free to contact me to arrange an appointment to come to your place with props in hand! Visit my photography website - www.delsharlapetpawtraits.com to view some of my work or find me on FB - Delsharla Pet Pawtraits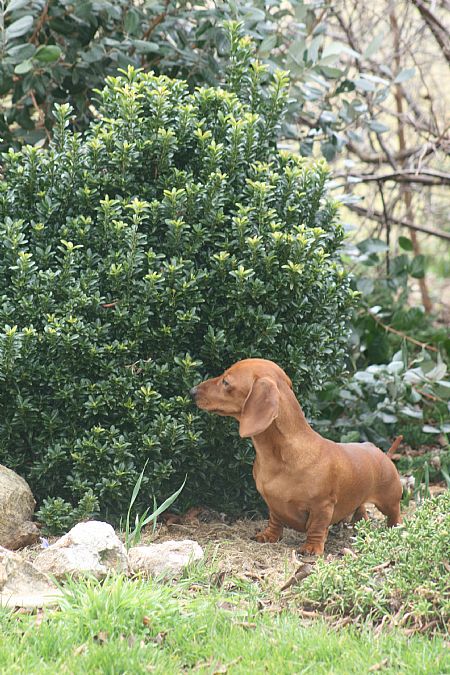 Benny enjoying the garden at Bontarnie Bassets, June 2011.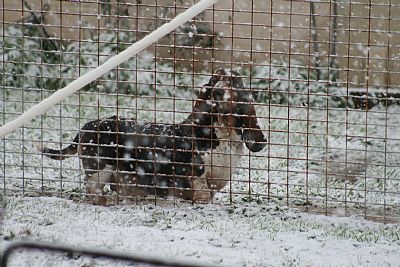 Winter at Delsharla - Trinity in the snow, June 2011.
I hope you enjoy your visit to our website and if you have any enquiries, please feel free to contact me, I am always up for a chat about the wonderful Basset and Miniature Dachshund breeds!
93304 Visitors