About Us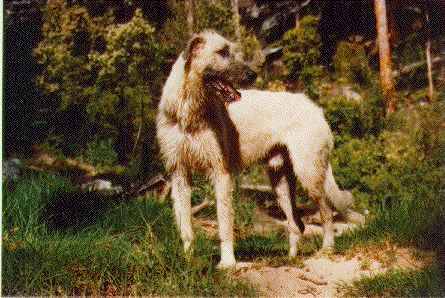 Soile fell in love with an Irish wolfhound in 1976, but it was four years later when she found an Irish wolfhound puppy to buy and within 7 months she had bought another puppy. Soile immediately started showing her first Irish wolfhound bitch and has been showing ever since. Our first Best in show was gained by Champion Ch. Wulfgar Falcarragh in 1994 ( see homepage for photo). We now have a Grand champion Wulfgar Muttley, only one other wolfhound has achieved this title in Australia. Our Irish wolfhounds have now gained multiple Best in shows, Runner up in shows and multiple group and in show awards. We have exported wolfhounds to Tahiti, Hawaii, New Zealand and the brother of our current young male ( Wulfgar Paris ) is showing in Brazil and after a short showing career is now in the top 2 of the show dogs in Brazil at the age of 2. We did not export for a number of years as we needed all the puppies close to us for further evaluation and studies. We have had our friends and breeding partners involved with this breed for the past 20 years, and between us we try to have at least 2 litters a year however some years we have none.
We have also been involved with Deerhounds since 1996 after taking over the Weirskints prefix formerly owned by Christine Stead. Christine had produced some wonderful Deerhounds during her 30+ years of involvement with Deerhounds, so when Christine expressed a desire to stop breeding and showing Deerhounds , we decided to continue her good work with her existing dogs.
(see www.dogs.net.au/deerhounds/ for the Weirskints Deerhounds)
Some of our sweetest dogs have been Deerhounds.
Soile decided to startup with Giant Schnauzers in 1999 (see www.dogs.net.au/wulfgargiants <http://www.dogs.net.au/wulfgargiants> for the Wulfgar Giant Schnauzer site and information)