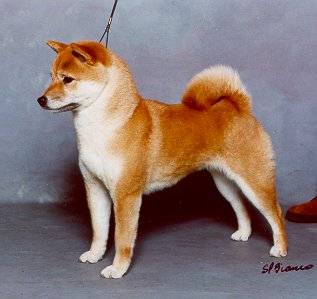 Above is pictured Champion Kazumi Tokyo Rose

Kazumi Shiba Inu is a small but successful kennel. The Kazumi bitch line is a particularly strong one, stemming from Ch Glendalin Kazumi San, our foundation bitch. We now have seven generations of quality bitches.

We breed rarely, and most puppies are living happy, healthy lives as pets with loving families.

We are very proud of Kazumi Shibas' achievements in the showring, together with the place most of our puppies hold in the lives of the families they now reside with.

Future owners are vetted very carefully before acquiring one of our puppies!
I AM CARRYING A NUMBER OF ORDERS AND WILL NOT BE ALBE TO ADD ANY FURTHER ORDERS TO MY LIST BEFORE THE END OF 2020.
PLEASE NOTE: ALMOST EVERY DAY I RECEIVE EMAIL AND PHONE ENQUIRIES REGARDING SHIBA INU, WHICH ARE RARE IN VICTORIA. I APOLOGISE IF I CANNOT RESPOND. UNLESS THIS WEBSITE REFLECTS THAT I HAVE CURRENT PUPPIES FOR SALE, IT IS MOST UNLIKELY THAT I CAN HELP YOU.
ANY PROSPECTIVE PURCHASERS OF KAZUMI PUPPIES NEED TO BE APPROVED (AS I EXPECT YOU WILL WISH TO APPROVE OF ME AND MY STOCK ALSO)
Andrew Burt
Lower Plenty, Melbourne, Australia
All Content Copyright
Dogz Online - Dogs, Breeders, Puppies