Bronacre Litters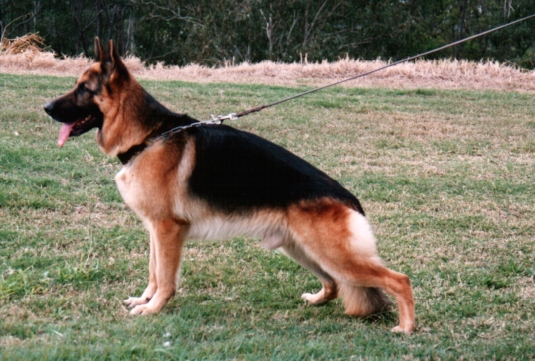 BRONACRE LITTERS.
ICE ICE BABIES

At Bronacre we breed by the German Shepherd Dog Council code of ethics and only breed from top quality stock.
Bronacre is proud to announce the safe arrival of a very special litter of quality Bronacre German Shepherd Dogs. 5 bitches and 3 dogs.


BRONACRE BLUE ICE 'A' 'Z' (Lizzi)
x
*CH. HASENWAY WILD KNIGHT E.T. B.S. Class 1 'A' 'Z' Excellent Select. (Kitt)

We are proud to announce our lovely show winning bitch 'Lizzi' has whelped 8 pups to the late, great show winning dog 'Kitt' on 9th December, 2019.
Kitt was born in 1992 and died in 2006. He was a true Champion and was the top winning show dog of his time.
He was also a 'Dual Winner' having won dual trophies for show and obedience.

From very sound bloodlines both parents have excellent hip/elbow results along with outstanding nature & good looks and are both top winning specialist show dogs. Both parents have excelled in the Specialist Ring, All-Breeds Ring and both perform in Obedience.


These pups will suit show, obedience and make fabulous family pets.



Both parents have A and Z stamps for hips and elbows and both are very successful show dogs.
Pups will be microchipped, vaccinated, wormed and registered with Dogs Victoria. They can head to their new family homes once 8 weeks old.
This litter will be suitable for showing and obedience training and will make great family pets.
It is essential your German Shepherd puppy is trained and socialised so each buyer is given 4 free training sessions to to start them off at the GSDCV.
They come with puppy packs, loads of advice, 6 weeks pet insurance and are raised on top quality premium food.
Quality German Shepherd puppies from the finest bloodlines are bred at Bronacre. Our puppies are for the German Shepherd owner that is looking for the best quality, soundness & true German Shepherd type.
Please register your interest by email or call Edwina on 0419335541