Hairless and Powderpuff Chinese Crested Dogs:
Jeanette Bryce & Bernard Cherry
Christchurch, NEW ZEALAND
Phone : 03 3294 318
Email : koreke@actrix.co.nz
'THE ANCIENT DOG FOR MODERN PEOPLE'
Koreke Kennels breeding physically sound, happy Crested's using the best of New Zealand and International blood lines.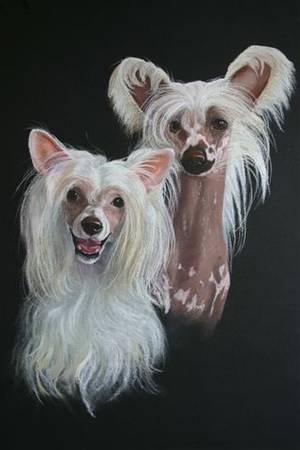 Breeders of Chinese Crested Dogs - Our Kennels are situated on a hillside above Lyttelton Harbour on beautiful Banks Peninsula, New Zealand. Our love of Chinese Crested's started fourteen years ago. The public record of that journey can be seen on these pages. What cannot be seen is the learning we have done along the way, the friends we have made and the tears we have shed. Many times we have asked ourselves "why do we do this" - then one of our wee buddies curls up on our lap, or we receive a picture and update from the new family of one of our dogs.

We believe that every puppy born in our kennels deserves the very best start in life that we can provide. Therefore the future direction of our kennels will continue to be linked with strong health tested international lines. Why do we Health Test? Because we acknowledge that ALL dogs carry the potential for ill health - we test. All our breeding dogs and puppies are health checked by our vet and by DNA analyses.
29360 Visitors