Our Cesky Terriers
"Brewster"
The Cesky (also known as Bohemian Terrier or Czech Terrier) is a relatively new breed developed from the Sealyham Terrier and the Scottish Terrier (please see the history of the breed page) and was first recognised by the FCI in 1963.
Our first Cesky…Brewster - Aust & Canadian Champion Zlatapraha Elan (Imp Canada) is from the top winning Kennels of Ms Wendy Craig, in Canada.
Brewster's sire is the "multi-titled champion" Zlatapraha Elan – "Brubeck" – who was Canada's No 9 Top Terrier for 2006 and in 2007 and during 2008 gained a further championship title and also won at World Show level. Brewster's dam Can Ch. Daintys Idle Gossip at Zlatapraha is from the famous Dainty's kennels in Sweden.
Brewster has inherited wonderful attributes from both his parents, an excellent head, good ears and lovely neck, typical Cesky topline, correctly textured coat, good tail set and is an ideal size for the breed.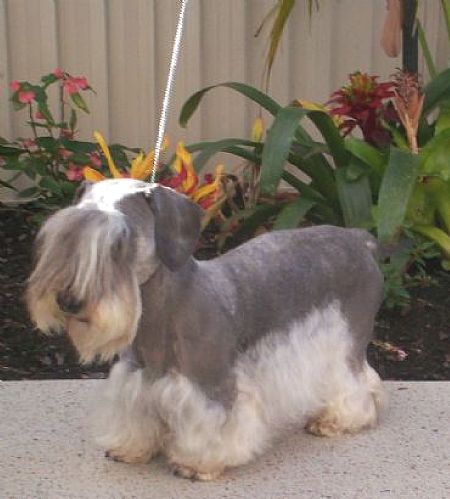 " Pridie"
Brewster's companion - Aust Ch Silverino Yatzys Pride, is the second Cesky to arrive at Chalan. "Pride" is a very sound bitch and has become
a loved member of our family as she has the most beautiful temperament and has also proven herself to be a wonderful natural mother.

Below are our more recent Cesky Terriers as we will continue to promote this wonderful smaller Terrier in the show ring.