About Us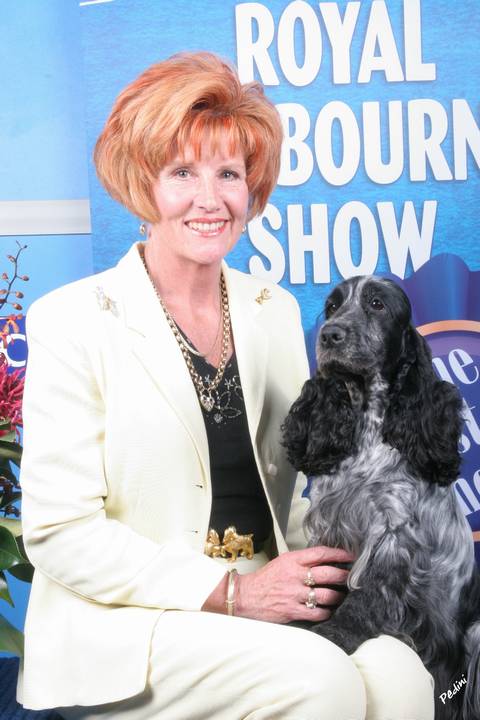 Dennis, my devoted husband and I purchased our first cocker from 'Reinlee kennels' way back in 1978. This bitch, Reinlee Pandora became our foundation bitch and the start of 'Glenayden Cockers'.

We decided that we wanted to try and use the very best stud dog we could over our girl and in our eyes that was Aust.Ch. Brightleaf BeWinged. This combination produced very well giving us our first blue champion bitch, Aust.Ch. Glenayden Quicksliver who won an enourmous amount for us including Best In Show Cocker Specilities, two Royal Challenges; Sydney and Melbourne. 'Wings' had worked his magic for us and set our path in concrete for our future as we now have produced 28 champions most of all go back to our foundation blue bitch by Wings.

We have also shown quite a few solids and again enjoyed much success with by using the best dogs we could access with this combination enabling us to title a good number of blacks.

My all time love as many will know, has always been the gold roan/gold and white, a colour I have been told so many times before is too hard!!! I have proven this wrong, I will agree it is a hard colour to win with but all the same I sincerely believe if you have a good cocker regardless of what colour it is it will do well. We have over the years had great success with this colour with our main girl being Aust.Ch. Glenayden Snow Storm, winner of the very first National under Richmond Weir. This bitch also won two Sydney Royal challenges & BOB and RUBIG Sydney Royal plus 3 Best Exhibits in Show Cocker Spaniel Specialities.

'Oliver' or Aust.Ch. Glenayden Edged In Gold is the other very well known orange and white dog who has also left his mark with Best In Show Specialities and the main honour of BEST IN SHOW ACT ROYAL SHOW 2001.

Glenayden prides itself in consistently producing dogs of high quality, we are not a big kennel and only keep upto 8 dogs at any given time so our record is even more impressive under these conditions.

I am now pleased to have passed with flying colors my exams for my Gundog licence and have now enjoyed quite a few Judging appointments just love it plus appreciation of others in our Gundog group. I now can give something back to the dog world for all the enjoyment it has given me, I am still learning and finding I have a lot more to actually take in but I love every minute of it and would not swap for the world!!

We hope to continue breeding dogs that please us and will never lose our great love for our dear English Cocker.
We also offer a proffessional grooming service for show and pets done at home at Kenthurst.
I am also pleased to annouce I have now ANKC approved Gundog judge as of 15/11/07. I look forward this chapter of my career. Thank you to all those special people who have shared their wealth of knowledge with me it has been greatly appreciated.

Ann & Dennis O'Keefe