Welcome to 'Our Dogs' page. .
Scroll down the page to find links to the profiles of my dogs. If you then
click on the links, it will take you to their pedigrees, show results, etc.

Pure Bred..Enough said!
**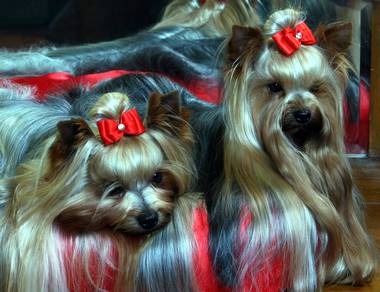 Australian Grand Champion Yetholme Make Mine Mink
9/6/1998-28/8/2011
Gone, but never forgotten!
Makka took pride of place here at Yetholme for more than 13 years.
He was an absolute joy to live with and to show.

- "Makka" (above left, with his beautiful daughter,
Am Ch Aust Ch Yetholme Born Free, now also deceased)
With Multi BIS/BISS's to his credit, Makka truly epitomised what a Yorkshire Terrier should be. Not only an
outstanding show dog, he consistently produced excellent progeny and sired 32 Champions, 30 of those
are home-bred.
I do realise that the following is
VERY, VERY OLD NEWS,
but out of respect and love for Makka and Sal I simply cannot
bear to remove it, so it shall remain here.

Aged 18 months, pictured here with
Mr Osman Sameja, (Ozmilion, UK) judge
of the NSW Yorkshire Terrier Club Championship Show in 2000,
where he awarded Makka RUBISS
(97 entries) behind his kennel-mate


Ch Yetholme Loves Salvation

2001...aged 4 years, and a
cover boy for National Dog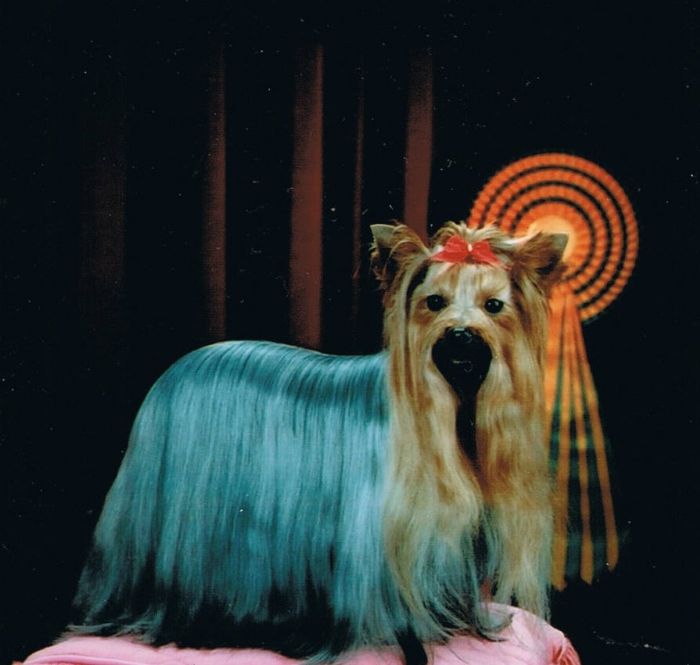 Ch Yetholme Loves Salvation - 'Sal' - above
**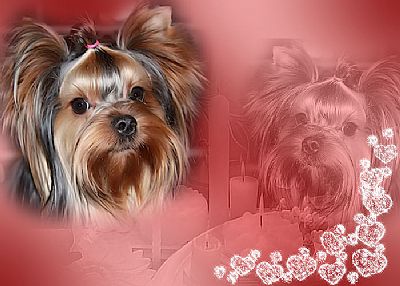 Yetholme Karma Kahlua (above)
mother of Ch Yetholme Kahluas Phoennix & Ch Yetholme Kahluas Esperanza.
Sadly we lost Lulu from snakebite on 10th Oct 2010.......the loveliest little girl one could ever imagine.