Welcome to my Photo Album.
Click each link to view larger photo.
This page is a work in progress.
Pics to follow.
The puppy's breeder will, no doubt, have their preferred methods,
but this works for me, and my puppy families know they can contact me at any
time for any help.
It is important to accustom your puppy to being bathed on a weekly basis, and groomed daily.
A puppy is with its breeder for such a short time and may have only been bathed
3-4 times before it leaves
to go to its new home so it's really not long enough to familiarise the puppy
with the grooming routine.
Shampoo: For decades, I have used Coat Handler Shampoo and Conditioner but this is now
becoming very hard to get (it comes from the U.S.) so an alternative needs to be found. Fido's, available from
good pet shops, is a nice gentle shampoo. Conditioning is essential to keep the
hair soft and easy to manage. Do not use human shampoo on puppies. The pH is quite different
and can cause skin irritation.
Also, Chris Christensen has very good products.
https://chrischristensenaustralia.com.au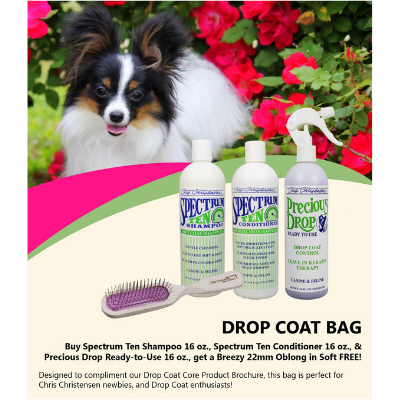 Bathing: While the puppies are tiny, I bath them in the kitchen sink so that they are
not unduly frightened by, say, the depth of a laundry sink.
Water should be warm, not hot, and everything you need - shampoo/conditioner/warm fluffy towel -
should be at hand. Shampoo should be thoroughly rinsed from the coat to avoid residue causing
itchiness and flaking.
Puppies should become accustomed to the sound of a hair dryer from a distance away
initially and then closer. Use a medium heat, brushing or combing as you dry,
commencing from the very end of the hair and working up to the skin,
but never take your hands off the puppy as they can move so quickly, and have no sense
of height or danger should it jump. Broken necks and/or legs do not bode well.
Last step is to comb through the hair carefully, and gently, taking care to
remove any knots or tangles that may have been missed in the initial brushing.
Puppy coats differ. Some lose the dark puppy coat and if the loose hair is
not removed, terrible matting can occur.
Grooming on a daily basis can be carried out while groomer and puppy are
relaxed, e.g., watching tv at night. Accustom the puppy to lie on its back so the
underneath bits, armpits, etc., can be combed. Always endeavour to make it a
pleasant experience, and reward good behaviour.
Underneath the tail needs to be checked regularly for soiling,
and washed immediately if needed.
Toxic shock can set in if faeces are allowed to block the anus, and this is a
serious situation, not to be neglected.

Nails: While with the breeder, the puppy will have been accustomed to having its nails trimmed
every few days as the nails grow so
quickly, including the dew claws which must never be neglected lest
the nail become so long it grows into the skin.
The photo illustration shows a pair of nail clippers, but while the puppy
is tiny, human nail clippers are good.
Ears have also been trimmed regularly. The top one third of the ear, front and back, and the edge
should have the hair removed regularly. If the hair is not removed, the weight of the hair
could cause the ear to fall over and greatly detracts from the smart characteristic
tiny-ears Yorkshire Terrier look. If you don't feel confident using scissors,
invest in Wahl battery-operated clippers and a good pair of blunt-nose scissors.
Feet: Underneath the pads of the feet should be kept free of hair, lest they collect grass-seeds
and similar, and the hair on the feet themselves should be kept trimmed neatly, catlike.
Eyes should be kept clean and clear of debris build-up. Clean the corners of the eyes
daily with a wet wash cloth or perfume-free baby wipes. Colloidal Silver, obtainable from
health food stores and/or Chris Christensen is wonderful in the event of sore eyes.
Coat: As the hair grows longer and requires more attention, you may decide to have it trimmed
by a professional groomer. If you have not used a groomer before, do your
research carefully. Recommendation is best. The last thing you want is to have
your puppy frightened by a bad experience. Professional groomers,
however, can not work miracles on a puppy that has not had basic grooming
experience and handling.
Topknot: The hair on the head will gradually grow and change from sooty black to silver and
then to golden tan. To keep the hair out of the eyes, you might want to give your
yorkie a topknot, and even a pretty bow as is used in the showring. Elastic bands may be purchased from grooming
shops or orthodontic bands can be used. Your breeder can help you with such information.​
If, however, you decide to grow the coat so that your puppy looks like a show yorkie,
your breeder should be happy to help and advise. To keep a dog in show condition is hard work, requiring
dedication and patience.
Nothing looks more beautiful than a yorkie in full coat, complete with red bow in the topknot,
but it takes time and dedication to achieve this.
There is nothing more pleasing to a breeder than to have their puppy/s
clean and beautifully presented, and well-behaved, when being taken out in public,
true ambassadors for the breed.
Other people will have different methods and differing opinions,
but the above has worked for me for more than 40 years.
If you cannot manage the grooming yourself, seek recommendations from others, vets, etc.,
as to a reputable, gentle and experienced groomer.