Leberhine Kennels was established in 1971 by Hugh and June Garvican. Leberhine was thrown into an haitus by the death of June on February 9th 1994. Some years later, Christine Garvican became the matriarch. Robert and Dawn Evans became part of Leberhine in 2004 due to family circumstances. Prior to this involvement with Leberhine they exhibited and bred under the 'Rhinemann' prefix.
Throughout the decades we at Leberhine, have consistenly bred, owned and imported top quality animals. "We breed for quality not quantity". In the past 40 years we have bred less than 500 puppies . We not only breed to improve Leberhine bloodstock but also 'to enhance and advance the German Shepherd breed in Australia'.
We achieve excellent results in both conformation and obedience.
Our results can be substantiated throughout various GSD magazines and catalogues.
Leberhine was one of the first kennels in South Australia to participate in 'The German Shepherd Dog Council of Australia' initiative of tattooing in the late 1970's (Leberhine Freida had the tattoo number AUS 0001); we the only of the 5 original kennels involved, to still be in existence. No other breeder, is still an active participant within the German Shepherd Dog world in South Australia today. We subscribe to the GSDCA breed improvement schemes such as breed survey, hip and elbow screening, and the code of ethics set by the South Australian Canine Association (now known as DogsSA) and the ANKC.
We have bred and/or owned a class winner in all of the conformation classes at 'The National' except the Open Dog/Bitch Class although Aust Ch Leberhine Umeeko received a Silver Medal at the 2016 National. Our Aust Ch. Tandina Mollie received the Gold Medal and Challenge Bitch at the 1976 National from the Intermediate Bitch Class and her mating with the Gold Medal Winner of the same year Ingo vom Hafenlohrtal produced Excellent graded Leberhine Freida, Flora & Freya (3 out of 5 pups Excellent in a National). Aust. Ch. Crudgells Jojo is the only male to date, to win the SA point score trophy in 3 consecutive years. Not only was this an outstanding achievement, but no other male has won the trophy more than once in the history of the trophy. Aust. Ch Leberhine Umeeko is the first ever dog or bitch to win the trophy 4 times. We have also bred and/or owned State Siegers and Siegerinin; been awarded many In Group and In Show awards in both the All-Breeds and Specialist rings; and bred and/or owned multi-excellent graded animals at Nationals and Specialist shows; achieved the title of Australian Champion with several of our dogs plus obedience titles.
Both Hugh and Robert trained dogs securing the animal's Companion Dog title. Hugh was an obedience trainer and won the Novice Dog Class with Brendeter Gallant Reb CD (highest score) at the 1972 National and helped secure the team trophy for South Australia.
Australian Champion Brendeter Gallant Reb CD circa 1971 with Hugh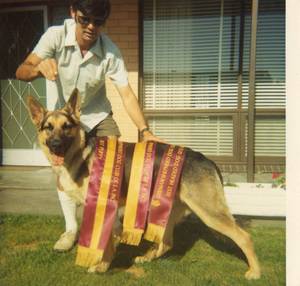 Hugh was a Group 5 and German Shepherd Specialist Judge and Breed Surveyor for over 20 years (retired). Both Hugh and Dawn have held various positions on the committees of the GSDCSA including: 2nd Vice-President (i.e. Breed Affairs Chairman), trial and show manager; Shepherd News Editor - they have also held positions on various sub-committees within the Club. Hugh is a life-member of the German Shepherd Dog Club of SA. Robert is the current State HD/Elbow Registrar + a microchip officer.
Some of Leberhine dogs have included: Aust Ch Kondorsohn Konig, Leberhine Frieda, Leberhine Olaf & Odette, Leberhine Kanto (the first and one of the few all-black males to ever receive the Excellent grading in Australia); Leberhine Freya an all-black litter sister to Freida owned by Frank Moody past President GSDCV and the past GSDCA National Tattoo Registrar, his wife was the GSDCA Secretary for many years); Leberhine Sally, Aust Ch Beautrae Dachs, Aust Ch Crudgells Jojo, Rhinemann Calais and Aust Ch Leberhine Jeronimoe. Many of our breeding have become the 'foundation' of some of the top kennels in Australia.
Our imports include: (1970) Volkerson Yvon (imp NZ), Anjou's Chantelle (Imp UK), (1980) Jonhsway Rea (IID), Olk vom Forstergarten (Imp Gmy),(1990) Lindanvale Ritzi (Imp UK), Indra vom Reststrauch (Imp Gmy), Mutz vom Schuttingerweg (Imp Gmy), Ira vom Waterkant (Imp Gmy) and our last import (2000) Nilson vom Wildsteiger Land (imp Gmy).
We at Leberhine are sincere in our commitment to improve the German Shepherd Dog and provide happy and healthy family companions. Our breeding programme promotes both conformation and working (obedience lines). We are not the largest breeders of Germans Shepherds in Australia, nor even South Australia. We do not want the "status" ......but we are proud owners and breeders of impeccably bred animals.
Rinty of Phoenix dob 17/5/1961 with Dawn circa 1962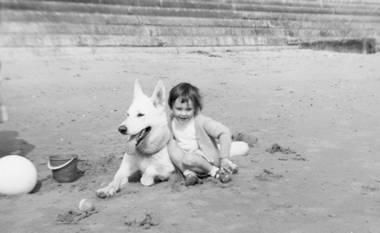 Rinty was an Avon Prince of Alumvale grandson. He was unusual in that he possessed black points. I.e. nose and nails, whilst being pure white.
NB The Garvican Family arrived in Australia in 1969, Rinty unfortunately was deceased.