About Us
This picture is of me with Champion Jurado lily Marlene and Panda CCD (my rescued miniature) having fun at Pottsville beach,some years ago.

I don't remember a time when I didn't have a dog....but Lily is my first show dog. My history is long in Obedience Trialling, which I have been doing for about 25 years. I have titled all of my poodles in obedience except Lily, who is now retired and runs things at home. She is still the BOSS!

Lily's daughter, Ch Wild Child, titled in May of 2009 and her son, Ch Loana Louis Lamour titled in 2010. Leia titled in 2012 and Maiya is on her way. Ch.Loana Wild Child's daughter, Loana Kahleesi is also " in the ring."

I am very fortunate to have the continued support and advice of Lily's breeder, Ms Jean Wadner, of Jurado Kennels. I have learned a lot from a few trusted friends, and really enjoy showing my dogs.
Now I have six Standard Poodles and one mini and they still live on my ten acres with my horse, cows, geese, ducks and Lorikeet. The Lorikeet barks along with them..very strange.
They all love the beach, chasing balls, retrieving toys and going for drives in the car - yes we do get some funny looks.
Poodles can do anything: showing, obedience, retrieving, agility, endurance,tracking, flyball, guiding for the blind and pets as therapy. The only thing they find difficult is leaving their owners! They don't shed, but they do need regular, thorough grooming. (All dogs should be groomed regularly.) There are many excellent websites and books to help the beginning groomer, but a good breeder will also help out. If you don't want to groom your own poodle there is a growing number of excellent grooming salons.

Most of all, poodles love human company, so if you can't spend significant time with your poodle, be fair and don't get one. Poodles should not be left alone for any length of time. They want to be with their "human pack".

Ch Loana Wild Child's first show.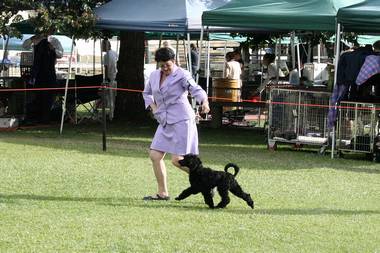 Lily at 5 years. Dec 7th, 2009.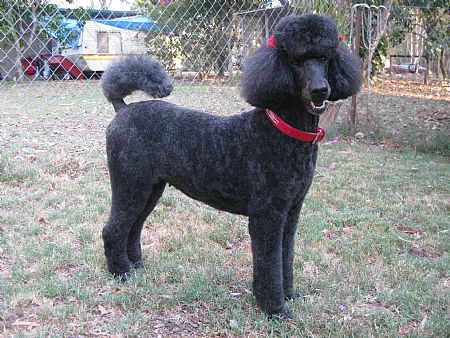 Lily wishing everyone a Merry Christmas for 2009!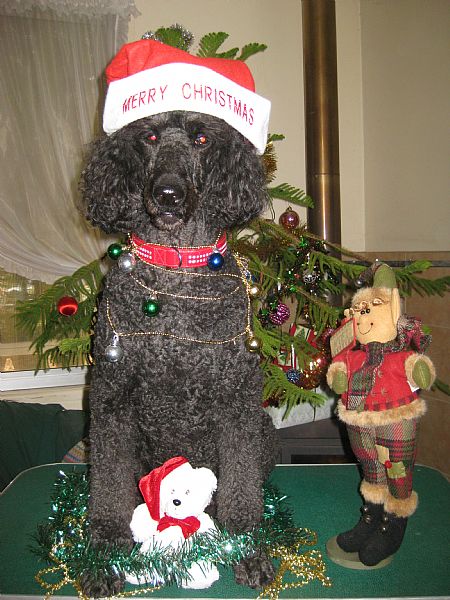 All puppies love toys. This is the white boy from Lily's second litter.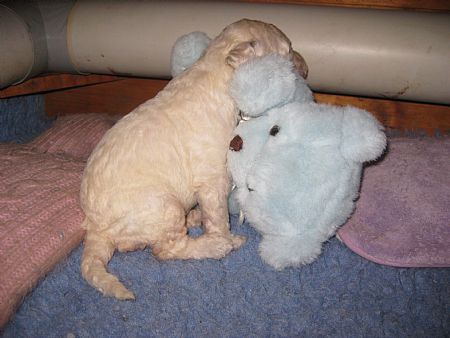 Leia, Seal and Georgia at 11 weeks of age. April 14th,2010.