PURE ly the BEST
Spreading the joy....of being owned by a yorkie or three is, to me, what it's all about. Enjoy!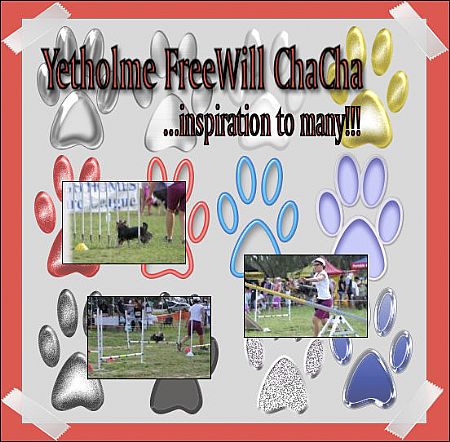 Consider doing Obedience, Agility, Rally or Tricks with your yorkie.
Check for a club near you:
http://www.dogs4sale.com.au/Clubs_Organisations_NSW.htm#NSW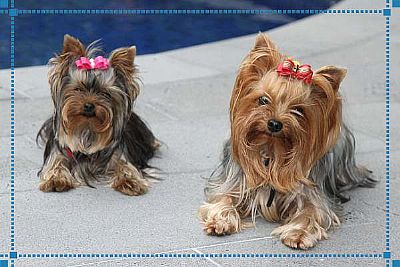 Freddie and Chloe (above) are two Yetholme Yorkies,
the proud owner of Judy and her hubby, from Melbourne.
They had never done agility before - neither had Judy - but all have taken
to it like ducks to water.
As you will see from the pics below, it is very easy to set up an agility course
in the backyard, and you can see how much Freddie and Chloe enjoy it.
Freddie and Chloe are both offspring of
Ch Brave Heart of Padawi's (imp Gmy)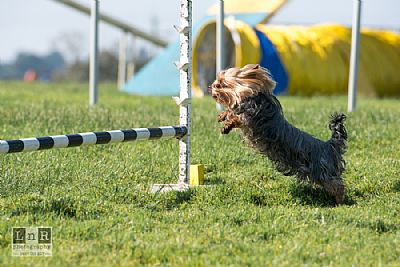 Judy has kindly provided the following information/links, etc..
The amount of information on the internet and the number of classes now is mind boggling!
There was very little available when I started 8 years ago with Freddie and Chloe!
There are a number of different handling systems and it is important to choose one and stick with it,
so you and your pup don't get confused! I use Susan Garrett's Handling 360 (as do the two clubs I train with).
It's important to start with the foundations and take your time. Here are some of my favourite websites:
Puppy foundation for agility: https://baddogagilityacademy.com/join-agility-foundation-for-puppies-and-young-dogs/ This is great for the first 12 months
Online and in Melbourne: https://www.apagility.com/, https://www.k9-connect.com.au/
Susan Garrett's handling system (only opens a couple of times a year): https://connect.handling360.com/
Susan Garrett's Agility Nation (only opens a couple of times a year): https://dogsthat.com/agility-nation/
Susan Garrett's Recallers (only opens a couple of times a year): https://recallers.com/
Susan Garrett's other stuff: https://dogsthat.com/
I have mainly followed the above with Jamie.
Online Classes
https://www.fenzidogsportsacademy.com/
https://www.cleanrun.com/category/learning_center/index.cfm (Clean run also have a great shop with lots of books, toys and everything related to agility)
Great articles and podcasts plus some online classes: https://baddogagility.com/
Lauren Langman's websites: https://absolute-dogs.com/pages/about (some great online courses), https://www.devondogs.co.uk/ (some on-line classes). I
If you were interested in doing agility I would do a good foundation course first that establishes your relationship with your puppy,
develops his body awareness and fitness, and desire to follow your handling cues before getting into teaching obstacles.
A google (or bing) search will bring up lots of possibilities:
https://www.bing.com/search?q=foundations+for+dog+agility&cvid=96ee70154ab6434aa1d6dcb919b6086e&FORM=ANAB01&PC=U531
Daisy Peel has a great foundation course: https://classroom.daisypeel.com/foundation-flatwork-for-agility/,
And Susan Garratt's Handling 360: https://connect.handling360.com/, covers from
foundation to competing while here Agility Nation covers all the obstacles plus lots more.
Once clubs are back in action after Covid, joining a good club is also really helpful. Each state's dog association (Dogs Victoria here) will have a
list of clubs that do agility, hopefully using positive reinforcement. Lots of videos on Youtube but that can be a bit overwhelming.
It's best to have a plan that builds the skills needed progressively. My advice to anyone starting out would be to follow
a puppy foundation programme, such as bad dog agility's to start, for the first 6 months or more, then chose a handling system such as SusanGarratt's
that starts with the basics and builds the skills progressively. At the same time, going along to a club to practise what you've taught at home.
Earlier notes from Judy.....
Years ago, while visiting Jan's wonderful website, I was fascinated by a photo of
Yetholme Freewill Cha Cha
jumping through an Agility tyre. Being totally ignorant of the sport of Dog Agility at the time,
I did a Google search. So began my journey into this totally addictive sport.
I had just become the proud owner of a tiny bundle of energy, called
Chloe (Yetholme Singing in the Rain).
She and my four year old Yetholme Freddie spent hours chasing each other around,
jumping over things and running through a cat tunnel I'd picked up at a $2 shop. So
I set up a few improvised obstacles in the back garden, found it was pretty easy to teach
the dogs to go over them and it was so much fun. One thing led to another, and with
encouragement from Helen and her friend Jacinta, I found an Agility club and had a go
at getting Freddie into their Foundation course. The competition was pretty fierce but Freddie
got in and we have been on a steep learning curve ever since, with lots of huge highs and
many disappointments along the way. Now both Freddie and Chloe compete regularly in both
ANKC and NADAC Agility trials. Freddie has his Novice Jumping, Agility and Snooker Titles plus
numerous NADAC titles and Chloe has her Novice Jumping and Excellent Agility Titles, so she
competes in the big league on Masters Agility course. (She needs one more pass to get her Excellent
Jumping Title and progress to Masters Jumping). She was also the top Yorkshire terrier worldwide
in NADAC last year, having earned 8 NADAC titles in about 6 months of competition. At under
2 kg in weight and 200 mm high (the lowest jump height in ANKC competition) she is really a pocket rocket!
Agility is such a great activity to do with your Yorkie, whether it is backyard agility or competition.
It builds a wonderful relationship with your furball, is great exercise for both you and your partner
and really challenges the dog intellectually, and the owner, trying to work out how to train what you
want the dog to do! People think Yorkies are just pretty toys, but they are highly intelligent, very easy
to teach and love the interaction with you. And those 30 to 40 seconds of running around the Agility ring in
a competition together is such a blast!
If you are interested in trying it, find a good, rewards-based foundation class and jump
right in. There is also a wealth of information and "how to" videos on-line – very useful to
help you get started.
Freddie and Chloe have now reached their middle years. Another chapter is about to start, with
Yetholme Jamie's Heartbeat joining Judy's family.
Jamie has his own page, Yetholme Jamies Heartbeat.