Will your puppy know who its parents are?
Only purchase from a reputable breeder!
**
http://rufflyspeaking.net/puppy-buyer-ettiquette/


ARE YOU READY FOR A PUPPY IN YOUR HOME
AND YOUR HEART?
Have you given it lots of thought?
Not a spur of the moment whim?
Considerable research and planning and PREPARATION should happen
before a puppy adopts a family.....
Is your breeder concerned about the long-term health and happiness
of your puppy?


Do you have the time and commitment for a puppy?
Are your carpets or social life more important to you than a puppy?
Sometimes puppies have accidents, just like little children do.
Are you ready for the occasional broken-night's sleep
or early morning awakening?
Is your house and yard puppy-proof?
Are you ready for the exuberant welcome a puppy will
give you even after just a short absence?
Are you ready for the unconditional love a puppy will give you?
Are you ready for puppy kisses and wet noses?
Are you ready for the, hopefully, 15 years or so of warm and loving
companionship?
Do you realise how hard it is to type with a wet nose and a furry paw
trying to get your attention !!
If your answer is 'no' to any of the above,
maybe you are not ready for a puppy in your life, so please consider carefully.
A PUPPY IS FOR LIFE!!!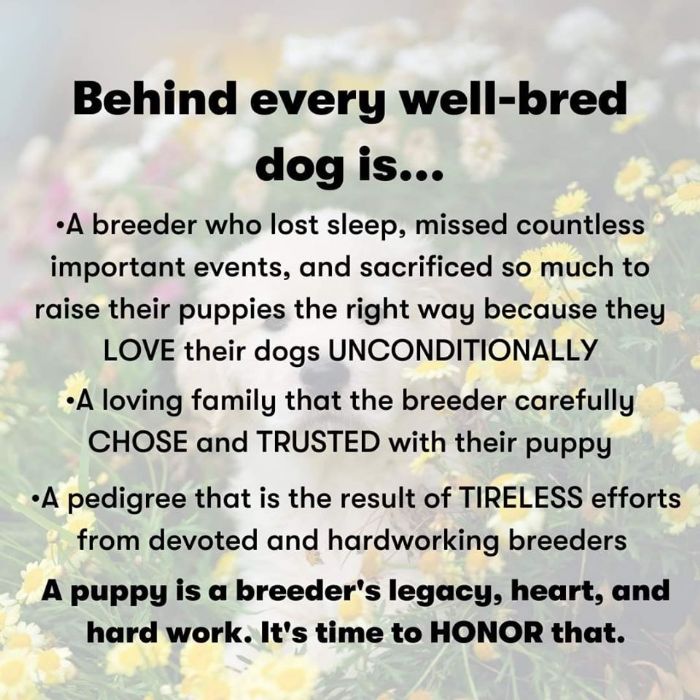 The following points are from a first-time-puppy-family in Sydney...
As a first time puppy owner....
-reduces stress in your household;
-provides exercise for family members whilst you are playing with him;
-attracts a whole host of family members and friends who want to meet him;
-provides you with great enjoyment shopping for his food and accessories;
- is a huge responsibilty requiring time ensuring his health and wellbeing are maximized;
- is like having a new baby in the home requiring your every care and attention;
- requires you to provide him with lots of attention to promote his mental stimulation;
- is entertaining and fun for the whole family;
- alerts you to everything that is happening around the home;
- makes you feel important and needed;
- is hard work but the more you put in the more you receive.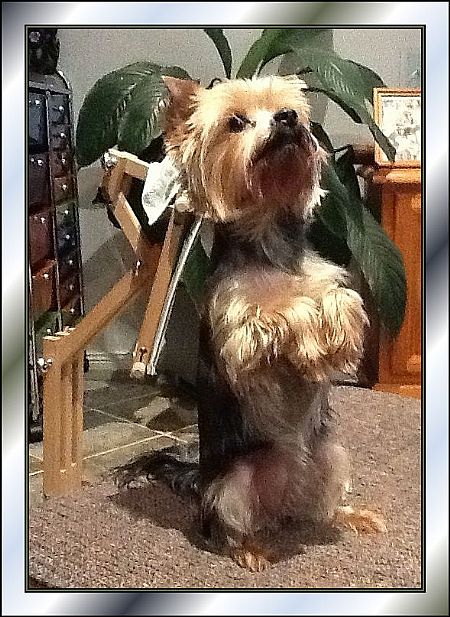 Neut. Ch Yetholme Karmas Princess Charlotte (above),
owner of the Sharp family, Sydney
Charli is a daughter of Brave Heart and Karma
**
All dog breeders worth their salt have their animals indoors. Puppies need to have various smells, access to a variety of sounds and people right from the first few days. THEY are included in daily activities. They are not housed on their own. THAT causes anti social behaviour, often barking, whining, howling. Great way to kill the very essence of a dog's spirit. THEY ARE REGISTERED as COMPANION ANIMALS. Everything those who love their dogs enjoys their company, their zaney personalities. The proposed legislation FAVOURS PUPPY FARMS, MASS PRODUCTION, CUTTING COSTS ON BREEDING. To produce sound characters a puppy MUST socialize regularly day and night with its human family. Mass production is sickening and Dogs NSW does a wonderful job ensuring its breeders are monitored, educated, follow a Code of Ethics and if fa breeder seems to be producing a lot of litters, checks up on the breeder to see what is happening. DOG WELFARE includes environmental enrichment, good hygiene etc. HOW can ENVIRONMENTAL ENRICHMENT be achieved when a dog/puppy is isolated?
This is so very true of what we do and how much love and effort go into our personal dogs and puppies. We love them always!
Dear past, present, and future puppy owners-
I loved them first.
I thought of you years before you even realized. I planned for and cared about your baby long before you started thinking of adding to your family. I worried about your future with that puppy before you knew there would be one.
There were hours upon hours spent researching lines for the parents of your puppies. Going over breeder after breeder, choosing not only my pet but looking for a dog that will make you your pet. Worrying if you'd be happy, if I had chosen correctly and your puppy would grow up healthy and happy. Going over puppy after puppy with fellow breeders, running over my program with as many knowledgeable breeders as I can, determined to not miss anything. Tracing lines back as far as I could, learning the ins and outs not only for my knowledge but so that I was informed, prepared to go over every detail with you, to answer the questions that sometimes you don't even ask.
Then there's years of watching your puppies' parents grow. Loving them and enjoying them as part of my family. Taking them every where I can, training them, socializing them, watching how they fill out. Asking myself had I made the right choice in both of them. Scrutinizing their conformation, how they move, and their temperament. There was the stress of health testing. Praying not only that my babies were healthy but that they had the genes to make your baby healthy.
Finally came the time to put your puppies parents together. For the next 63 days I worried, I obsessed, I grew excited. I watched your puppies mom like a hawk. Making sure my baby was okay, monitoring her diet better than I do my own. Concerned that she was getting enough of the right nutrients and that your growing baby was getting the best start possible. I spent hours on the couch, floor, and dog bed with her watching her tummy grow and anxiously waiting. As your baby and mine grew I laid my hands on her tummy and felt the first movements of your puppy. As the time grew close I spent every night with her. Making sure she didn't go into labor without me knowing, in case something went wrong and one of our babies needed help. When labor started my whole life stopped. I never left her. Your baby was born into my hands and I held my breath as I cleaned them up, cleared noses and mouths, checked them over, and wondered if you'd love them as much as I already did. I helped your babies' brother when mum got tired and he was stuck. I cried when your babies' sister didn't make it despite my best efforts, despite pleading with God to spare her and leave her with me to cherish.
For the first 8 weeks most of my life was filled with your baby. Watching them grow and making sure I was doing everything possible to make sure they started their lives the right way. Making sure each one was getting enough to eat, enough socialization time, that they were dewormed and given their shots. I was the first person they saw when they opened their eyes. I spent my weeks playing with them and keeping them safe.
I searched for you and interviewed you. As you spoke I tried to read your character. Would you love them as much as I do? Would you bring them in as part of your family? Would you care for this tiny life that I brought into this world that I am responsible for? Some of you were turned away but some of you were welcomed into our family. The day you took your baby home was harder than I'd ever let on. I was excited for you but I was also terrified. Had I chosen correctly? Were you who you seemed to be?
My love and worry didn't end there. I thought about your baby regularly, saddened when I didn't get updates, ecstatic when I did. I hoped you were caring for your baby the way I care for mine. I answered your questions happily and answered them again just as happily to your babies' siblings new parents. Just as I will be here and answer them for you for their entire lives.
I loved your baby first and I will never stop.
~Author Unknown~ —
The hand of a breeder ...
The hand of a breeder is the hand that calms the dog during childbirth ...
It is the hand that caresses her belly to calm her during contractions ...
A breeder's hand is the hand that makes the path free to let the pups be born easier ...
It is the hand that does not tremble and is under the blood to help a puppy in trouble.
A breeder's hand is the hand that breaks the puppies' bag if it is not broken after birth ...
It is the hand that helps rub and clean the puppies and help their breathing.
A breeder's hand is the one that tries to revive a puppy, but sometimes he has to give up when there is no heartbeat.
The hand of a breeder is the hand that cut the umbilical cord when the mother does not ...
In addition, the hand of the breeder is the one that weighs the puppy every day to see if everything goes well.
A breeder's hand is the hand that puts a puppy away closer to the mother while the mother looks at you full of confidence ...
The hand that rubs the chest, so that breast milk is activated ...
A breeder's hand is the one that rubs on his eyes and fights fatigue and sleeps after days without falling asleep.
It is the hand that gives milk bottles day and night when there is very little yield.
A breeder's hand is the one that brings the lost puppy back to the mother, the one who plays with the puppy to socialize, the one who teaches the puppy to switch to solid nutrition.
The hand of a breeder is the hand that takes care of the little ones when it does not go well with them The hand of a breeder is the hand you have entrusted to your future puppy in the hope that it will go well.
The hand of a breeder is the hand that is ready day and night to answer all your questions if you have any questions about anything.
For all these and many other things, the next time you shake a breeder's hand, think of everything that hand has done with love., ❤❤
The text is not mine, but it is so beautiful that I had to share it ..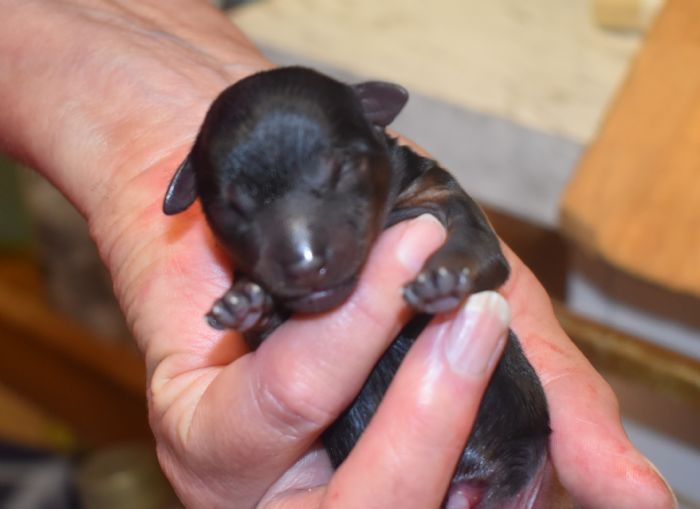 Yorkshire Terrier puppy at birth.