Aust Neut. Champion
Yetholme Charlottes Karma
Charlie, the super model
https://www.facebook.com/harriotthound/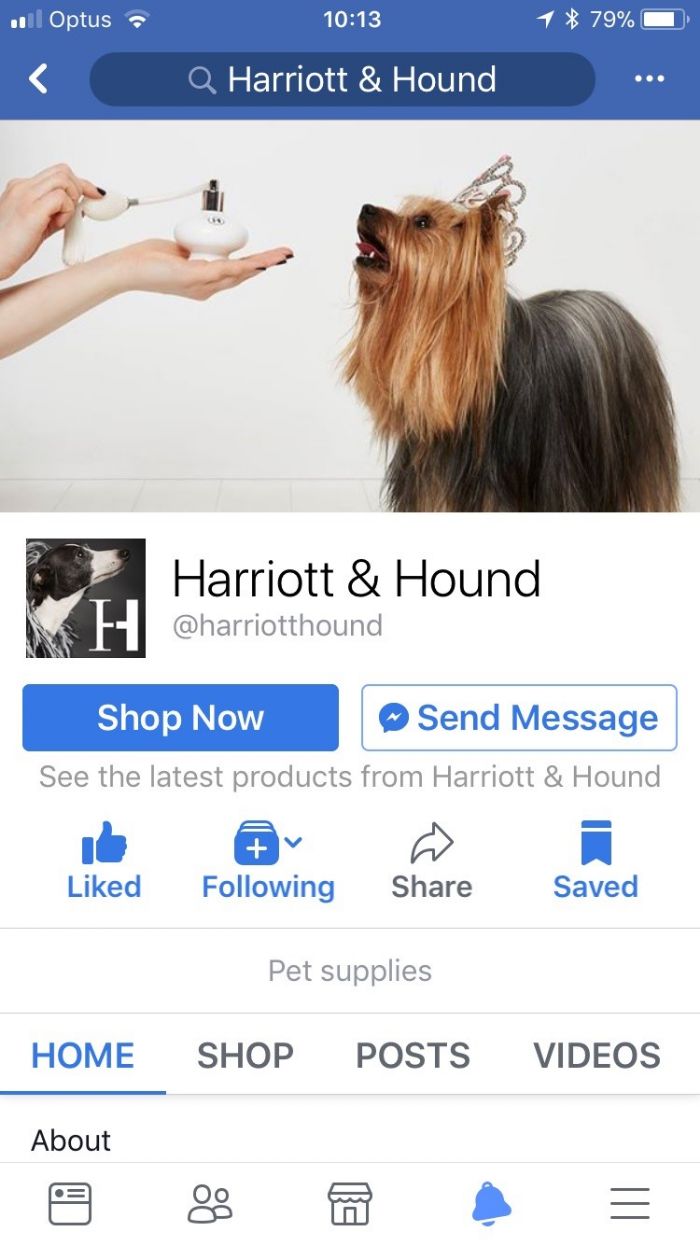 **
Below: Charlie won Best Neuter in Show at the Yorkshire Terrier Club
of NSW Specialty Show, held in conjunction with
Sydney Royal Easter Show 2017, and took a well earned rest afterwards.
She has such a loving, placid temperament and was a great hit with
the crowds who came to see the Yorkies at the Royal.
You're a worthy ambassador for the breed, Charli, and
we're so proud of you and your 'mum', Moira.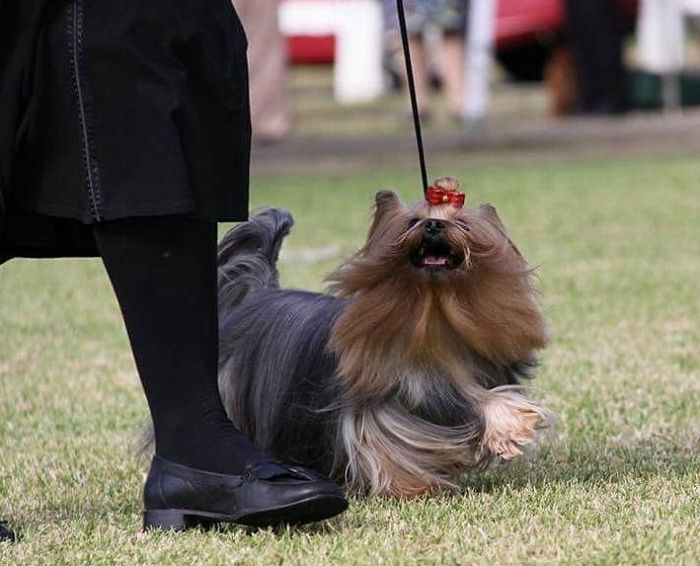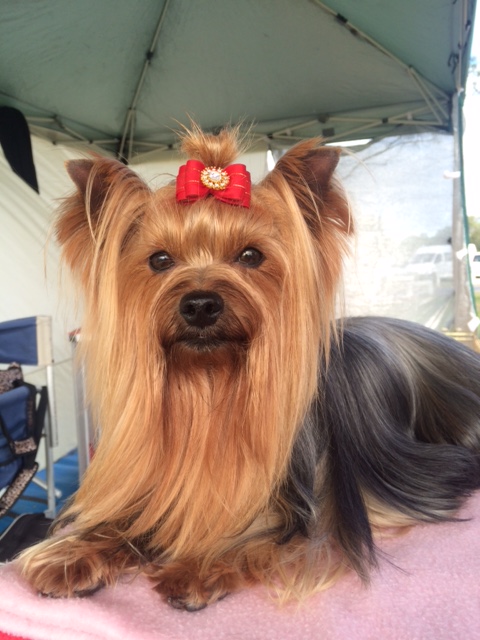 Sire: Ch Brave Heart of Padawi's (Imp Gmy)
Dam: Yetholme Welcome Karma
This is Moira's story of her pet puppy's transition to showdog champion. Truly a great achievement and inspiration to all.
We are just so proud of both of them.
Moira would love to know you've read her story,
so please leave a message for her in the guestbook.


My Yorkie Journey.....
by Moira Sharp

On 15 September 2009, our hearts were shattered. Our beloved Lucy, our 12 year old Jack Russell, gently crossed over while hubby and I held her.

Lucy had renal failure and was so very ill – we had to make the hardest decision, to let her go.
We swore that was it, no more pets, it was just too hard when they left us. Well, we lasted three weeks.
Coming home to an empty house was so sad, we couldn't stand it and while we knew we would always remember Lucy, we also knew that she would want us to have another friendly little dog to greet us when we arrived home.
I started to research breeds. We decided not to get another Jack Russell as we agreed Lucy couldn't be replaced. I'd always liked the look of yorkies and silkies and so I Googled breeders. Up popped a yorkie breeder at Yetholme!!!! As an Orange-born girl, I'd passed through Yetholme more times than I could ever count. It was a sign!! I emailed this lady named Jan about the possibility of a puppy. Jan contacted me and suggested I attend the Yorkie Yulefest – an annual gathering of Yorkie lovers held near Blackheath in November. Another sign – my best mate lives at Blackheath.

So my mate Barb and I went along to the Yulefest and had the privilege of meeting yorkie owners and being able to play with all the yorkies. I was introduced by Jan as a "yorkie yearner"!! It was a lovely day, even though I spent a lot of it in tears – Lucy's passing was still very raw, but by the end of the day I had effectively placed my order with Jan for a puppy.
Little did I know, a litter had been born on 10 October – and one now had my name against her. Jan sent me photos and it was agreed that my puppy, who we decided to call Charlotte (after Charlotte Bronte of Yorkshire) would stay at Yetholme until hubby and I returned from a Fiji holiday which was booked and paid for, but it was also agreed that we could call and meet Charlotte on our way to Cudal (50 k's west of Orange) as we passed through on our way to spend Christmas with family.

On 24 December 2009, as arranged, hubby and I called at Yetholme and met Jan, her friend Lyn and Charlotte – a tiny black and tan dot of fluff! After about an hour of cooing, we said goodbye and headed to Cudal. We arrived there mid-afternoon and I kept on and on about this gorgeous puppy that would be ours soon. At one point I said "I really wish I could have had her now …." Hubby said "why didn't you say that when we were there? You could have had her today if you'd said so." I burst into tears. "How can you say that to me now? I would definitely have brought her home with us if you'd said it was ok." Hubby knew he'd hit a nerve. "Well" he said, "let's go back and get her." I couldn't believe my ears!! Before he could change his mind, I phoned Jan (who I reckon thought we were a bit bonkers) and asked if we could come back to get Charlotte. Jan agreed, so we jumped in the car for the 120k trip back to Yetholme, stopping at a shop in Orange to get a bed, toys, blanket and food. On the way I phoned my sister who agreed to babysit Charlotte while we were in Fiji.

Charlotte was my Christmas miracle and I know Lucy would be delighted to see me so happy. As Jan said to me – the wisest words ever – when you lose a pet, you don't ever replace them, but your next one succeeds them, it's what they would want.

That was nearly seven years ago and Charlotte and I have come a LONG way. Charlotte came to me as a pet and was de-sexed as agreed. I never even thought about dog shows. As the years have passed, Charlotte has had her coat clipped short twice, but when it did grow long – she looked beautiful. A few years ago, a "neuter" class was introduced conformation dog shows. A couple of people, including Jan, mentioned that Charlotte was such a lovely example of the breed, I should consider showing her. It was a bit of fiddling and the mandatory paperwork to make it happen, but with Jan's support, Charlotte was entered in her first show in May 2015. Another yorkie lady, Alanna, helped me at my first show – explaining what to do and helping me to get Charlotte prepared. Alanna has been my mentor and become a good friend and still helps me at shows. My family came to cheer me on at my first show, my grandson even brought me a "best granny in show" ribbon, just in case we didn't win. But win we did. Charlotte has since won her class, best neuter in group a few times, and once last year – she won the highest accolade - Best Neuter in Show!!

Charlotte is now officially Australian Neuter Champion, Yetholme Charlotte's Karma and she's still winning. We're aiming for grand champion now, as long as we both keep enjoying the show experience. Showing is fun – sometimes daunting – but fun and social and most people in the show scene are lovely, friendly and supportive.
I've met a whole group of wonderful yorkie owners who I'm privileged to call friends. We share good times and bad, life's up and downs – but it's a wonderful support network, both for our yorkies and other pets, as well as for each other.

None of this would have been possible without Jan entrusting Charlotte to hubby and me. I love Charlotte more than words can say, but even so, seven years on, I find I still sometimes accidentally call her Lucy .... Our beloved pets – they really do never, ever leave us.