When only the best will do,
it has to be purebred
**
Give a boy a go!!
Boys are absolutely beaut.
**
below....
a very beautiful Brave Heart son....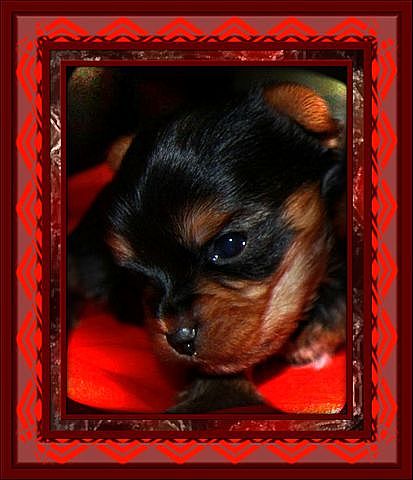 Like most breeders, I get so many calls for girls and, like most breeders, I cannot understand why girls
are sometimes preferred over boys. Sure, the little girls are gorgeous but the boys are simply wonderful.
They are so loving, affectionate and faithful. I cannot praise them enough.
Some seem to think girls are easier to housetrain than the boys but that is a myth.
It's an individual thing, not based on gender at all. Housetraining depends on the
vigilance and patience of the owner. A puppy is not born
knowing these things and must be guided to do the right thing.
Boys Versus Girls
** Hands Up all those who agree that boys ARE beaut!!
Please leave a note in my guestbook to that effect.
Years ago, the preference was always for male dogs. After all, boy dogs didnt come into season
and have unexpected or unwanted litters. It didnt matter that it was the boy dogs that were usually
the ones running loose and causing the unplanned litters in the first place.
Then the circle turned. Suddenly everyone seemed to want girls. This,to me, seems to be such a
shame as both dog and person are missing out on so much. Most breeders agree - boy dogs have so much to offer.
Additionally, they
* are cheaper to desex (neuter)
* are totally loveable
* are protective
* are devoted
* are affectionate
* are even-tempered
* love to cuddle
* and are just as easy, sometimes easier than girls, to
housetrain when neutered early.
Boys are BEAUT!!
Consider a boy when searching
for your yorkie puppy.
http://www.howtodothings.com/pets-and-animals/a4104-how-to-choose-between-male-and-female-dogs.html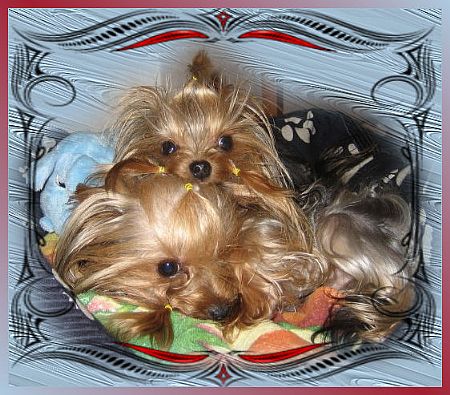 Above: two little brothers,
Pip and Duke.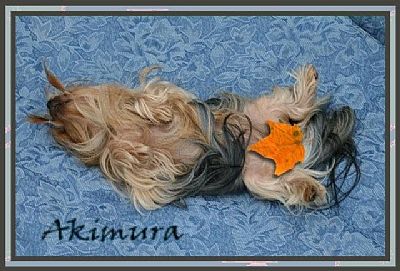 Akimura.....relaxes (above)