Testimonials/Guest Book
Please don't leave without signing my guestbook - right at the very bottom of this page - to let me know you visited!
(You need to remember to include the numbers in order to register your signing of the book. Thank you.)
**
PURE BREDS. NOT JUST FOR SHOW
...for health, temperament, and longevity.
**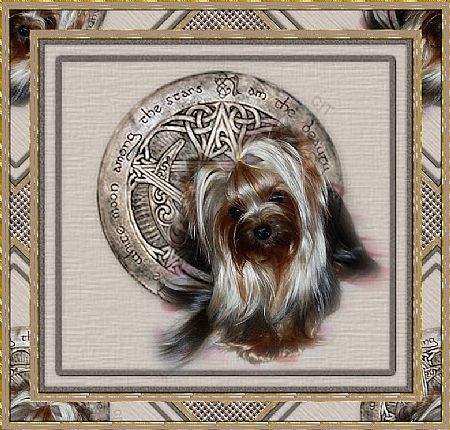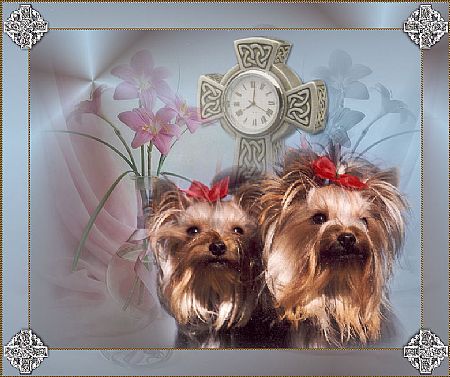 Down memory lane......
The above pic is truly a 'blast from the past'...on the left
is Ch Yetholme Weenys Blessing, and her litter brother (right)
Ch Yetholme Weenys Disciple ('Disco'), born in 1992.
I am amazed at the resemblance between Disco and
Yetholme Celtic Drums whose pic is above (top).

Thank you for visiting my website and for signing the
guest book. Please call again soon.
I would like to thank the people who do take the trouble to
sign the guestbook. Many of the comments are truly beautiful.
I receive even more - privately - and would love to be
able to include them here. They make all the hard work
worthwhile.

Name : Gil
Web Site : http://n/a
Country : Australia
How you found us : puppy
Comments : Toby is absolutely wonderful! He is the perfect little puppy! He is eating well and sleeps through the whole night - even through thunderstorm and lightning. We already have a bit of a routine when I work from home at my puter - he sits next to me and naps - it's the most wonderful thing to have him at my side. We had already two outings, one to my hairdresser. He sat on my lap the whole time, through cutting, washing, etc. The second outing was to my office. Again, once we had said hello to everyone, he sat in my arms and fell asleep! Everyone who has met him has fallen in love with him, and why wouldn't they, he is so gorgeous! I am the happiest mum and forever grateful that you had trust in me to let me have him. I feel very privileged. And I also want to thank you for raising Toby so well. You set the foundation. He would not be that contented and easy-going without your love and experience. I can see all the love and care you poured into Toby. I cant thank you enough. All the best and a thousand thanks.
Date : 23-Feb-20

Name : Lynne Eather
Web Site :
Country : Australia
How you found us : Site
Comments : Hi Jan I have been on your site for many years and from experience first hand your puppies are amazingly having one for 11 years .You have bred and raised your puppies with great love and well being of the puppy to only go to good homes and we are lucky enough to be able to have another one .And waiting his arrival ...Thankyou
Date : 11-Feb-20

Name : Gisella
Web Site :
Country : Australia
How you found us : Searched for Yorkies
Comments : Dear Jan, My recent visit to meet you and all of your babies was fabulous. They are all so beautiful. Especially the puppies are super cute! Your knowledge and advice was invaluable and helped me immensely in preparing to take care of a puppy for the first time. I hope we will meet many more times. I am deeply grateful for all your support.
Date : 29-Jan-20

Name : Moira
Web Site :
Country : Australia
How you found us : owned by a yetholme yorkie
Comments : Jan- I never tire of visiting the website and seeing all the lovely stories and photos - you are inspirational in your dedication to this wonderful breed. Much love Moi
Date : 17-Jan-20

Name : Selina Kim Vickerman-Prince
Web Site :
Country : United Kingdom
How you found us : Oz Yorkie Ripples years ago
Comments : Jan, I shall never tire of listening to your words of wisdom, paging though your web page of yorkies of the past, present and future, and being in awe of the many years you devoted towards the Yorkshire Terrier. You had a profound affect on me from the moment you entered my life and I am blessed to still have you by my side. You taught me to follow my heart, chase my dreams, inspire others and respect myself. In the words of Harriet Tubman : "Every great dream begins with a dreamer. Always remember, you have within you the strength, the patience, and the passion to reach for the stars to change the world." Thank you for teaching me so much and for being a powerhouse of encouragement and perseverance in the world of yorkies. Yorkie hugs, Selina and precious yorkies Enzo and Spyder
Date : 8-Jan-20

Name : sue
Web Site :
Country : Australia
How you found us : dogzonline
Comments : So glad you thought of doing a website with all of this information! I am a yorkie owner and am totally besotted :) I have owned and loved many dogs but yorkies truly are special. Hoping to find him a female companion now but I so agree the scamming is an issue. Everybody be careful ... buy through a breeder and check everything out!! I've really enjoyed reading this wonderfu iformation!
Date : 8-Jan-20

Name : Amanda Zanchetta
Web Site :
Country : Australia
How you found us : Dogz online
Comments : Enjoyed all the effort you've put into creating such a lovely website. Hoping to be a future Yetholme Yorkie family.
Date : 7-Jan-20

Name : Chelsea
Web Site :
Country : Australia
How you found us : Breeders NSW
Comments : Love all your beautiful photos and they have really rounded out our quest for a new member of our family. Hoping for a future Yorkie to add to our clan
Date : 3-Jan-20

Name : Yenny
Web Site :
Country : Australia
How you found us : Dogzonline
Comments : Thanks Jan for creating such a lovely and informative website. Surely so much time and love has been dedicated for this website and its truly show how much you love yorkies. I am learning so much from reading it. Getting to know you through Ripples, I can tell how much you care and love animals, and how lucky those people that get to own Yetholme Yorkies coz u are such a great Nana and always ready to help anyone. I hope one day I will be lucky enough to own a Yetholme puppy too 😊 Fingers crossed 🤞
Date : 16-Dec-19

Name : Judy
Web Site : http://n/a
Country : Australia
How you found us :
Comments : We went to a workshop by Craig Ogilvie, an amazing high end (police work, search and rescue, etc) dog trainer from the UK, on play yesterday morning. This fellow can get any dog playing, though that's not a problem with Jamie - we were there to learn some advanced techniques and I want to make sure I don't inadvertently hurt or frighten him. We had a great time and Jamie, who had never been to the venue or met any of the people or dogs, was so confident. I should have videos our first session - Jamie did everything and more then expected. Because we were doing so well and having such fun the session went for about 30 minutes and Craig was so complimentary about what a great puppy I have! I videos the second session but I'd had to wake Jamie up and he was too sleepy to want to do much so we abandoned ship and let him sleep. I'll put the video on Jamie's fb page. At photo time at the end, Craig asked if he could have a photo of himself and Jamie, and again said what a special puppy I've got! High praise from someone who mainly trains large, working dogs! Judy
Date : 6-Dec-19

Name : Carolyn
Web Site :
Country : United States
How you found us : Followed the link in your email message
Comments : Amazing stories, beautiful photographs. I enjoyed visiting your site.
Date : 3-Dec-19

Name : Penny Fuller
Web Site : http://n/a
Country : Australia
How you found us :
Comments : beautiful website, lovely lady is Jan Clarke, so kind and gentle with her dogs.
Date : 11-Nov-19

Name : Margaret
Web Site :
Country : Australia
How you found us : Dogz online
Comments : Lots of useful information on your site, i was looking for a Female Yorkie to be a sister to my Spartacus who is my little male. And i was advised to look through all the breeders pages as there is a lot of scammers online. But i found you have alot of information on your page. A good read.
Date : 22-Aug-19

Name : Kristy
Web Site :
Country : Australia
How you found us : Google
Comments : Your website is so detailed and contains so many wonderful resources and advice. Excited to learn more about this beautiful breed while trying to source a puppy for our daughter.
Date : 17-Aug-19

Name : Meeghan moran
Web Site :
Country : Australia
How you found us : Online
Comments : Lovely breeding
Date : 4-Jun-19
Page 1 of 9 Pages.
Add your entry to the Guest Book by filling in the following form.






| | | |
| --- | --- | --- |
| Web Graphics by Shawna | All Content Copyright | |